October 14th, 2022
This weekend was a Pop-Up Art Show at The Blue House Too Gallery in Allen, Tx, and I was one of the artists that exhibited. The gallery is located in a lifestyle center with retail, dining and assorted arts so it draws a big family crowd. Our opening night was a Friday so we got a mix of families and couples in the gallery, and to my amazement, both groups were truly interested in the art. Not only the artists participating in the Pop-Up Show but there is a fantastic one-woman-show at the gallery so massive amounts of color and design throughout the gallery.


I'm used to engaging with the adults and we discuss everything from my art, to the arts in general and I just love the interaction. I'm not one to be drawn to children but for some reason, this show was different. When I observed a child coming towards my booth, I watched what they were looking at, how they were analyzing the colors and designs of my paintings. They were very quiet but it was obvious they were totally immersed in the art so I broke out of my mold and walked from behind the table to the front. I squatted down a bit to get on their level and started asking questions about the art and the answers I got simply blew me away.


These kids were averaging in age between 5 and 8 and were answering my questions in adult level detail, actually far better in my opinion. They don't have filters so just say what they feel and it was so refreshing to have them remind me of why I paint. Yup - a group of children!


Some of my questions were, Do you like art? What do you like about it? Do you like to paint or draw? What are your favorite things to paint or draw? You seem to like this painting, what is it you like about it?


As you can see, they were fairly uncomplicated questions but the answers I received in return were at times, quite complicated. They were well thought out, well delivered and frankly blew the pants off the answers I received from the adults. Like I said before, they have no filters so they can say what they actually feel without fear.


I think my favorite was an answer to the question, What do you like about art? The reply was ...because you can make it anything you want and no matter what you do, it isn't wrong. From a 6 year old!


It takes a lifetime for an adult artist to come to that conclusion and that's IF they ever do. Since childhood it's drilled in our little brains there there is a right and there is a wrong but not much in life can be ok no matter what. I have a firm philosophy that there are no 'rules' when creating and while I am formally trained in art, I have tossed out all of those rules because frankly, they just don't matter. Paint from the heart and from the soul, just like a child. Pretend there is nobody looking over your shoulder to criticize or critique you, just play and have fun doing it.....paint like a child.


The Pop-Up Art Show is over but I took away many bits of wisdom from the tiny souls I met, and I thank each of them for giving me such a gift. What I hope I gave them in return was encouragement to follow their passions no matter what....no rules.





October 6th, 2022
Open Your Artistic Creative Mind and Try Something New

Every artist gets brain fog or loses inspiration so why not try a painting course. While I'm the posterchild for "NO RULES" in painting, there is nothing wrong with seeking new techniques and tools. In just a few classes you can learn a different way to mix colors or mark making, find some new tools or tips of the trade. Artists love to share their tricks and what better way to learn new ideas is by taking a class.

My suggestions will be to find a class that isn't too heavy on the "RULES" of painting and seek inspiration and technique options. I used to have a professor that graded me on all of the textbook rules of painting and it was like taking the air out of your balloon.

Create Your Own Style

Do you have a design in mind for art? If you are seeking more direction, more definition, an art class might help you find that perfect niche. Not to say your style might change in a few days/weeks/months, but for now, a class might help you better define your likes, dislikes and style. A good way to help define your style is to create a series of paintings in the same theme - variations with the same subject, same textures, same print making, all of the above. You might come to see there is one particular style you really enjoyed doing.

Get Inspired

There is something called 'steal like an artist' where you don't actually plagiarize their work, but you use the best elements of their work to inspire yours. When you are around other artists in a classroom setting, you will begin to see all types of elements in their works that might just turn on that creative lightbulb.

Share Your Story

Be original, show off your stye and tell your story. An art class just might be the best sounding board yet. You will get feedback from like-minded people and as much as you love your best friend or even your cat, they are maybe not the best people to ask when seeking opinions about your art.

Feed Your Soul

There is nothing like being in a room filled with creative minds. Even if you don't walk away with any new 'lessons', you will at least have fed your soul with art food. I suggest that if for any other reason you take a class is to feed that insatiable hunger for comfort. Be it colors, textures, subject matter, an artist needs soul food to unleash the inner spirit. Go play.


NOTES: On a sidebar, there are some fabulous artists that teach annual classes online and while a little expensive, they are upwards of 10 weeks long and will cater to abstract and representational artists at the same time. Suggest you look at (my favorite) Louise Fletcher Art, Betty Franks Art, Nicholas Wilton Art2Life, Julie Schumer - most of these artists offer a free course before the extended sessions begin so you can get a taste of their style. Some are better in instruction that others.


And don't forget to look at your local colleges for courses. Especially in the senior bracket, there are many schools that offer free or very low cost options. Check your galleries, libraries, local Arts Alliances. There are so many options out there so go check them out. Happy Painting.


September 25th, 2022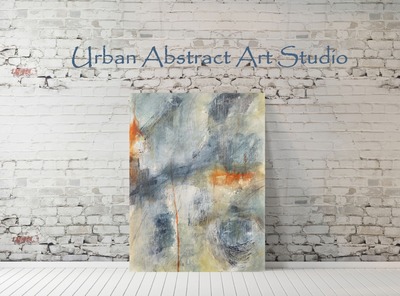 Welcome to Urban Abstract Art Studio! I'm Lynnie Lang and I'm so happy to share my love of art with you. I'm an abstract artist that creates original art for small spaces in fun bright and bold colors, and one never knows what will come from a painting session.

I'm a firm believer that first and foremost, you must have fun when practicing the arts. I also believe that when you sit down to paint, you should have an open mind and black canvas with no end result in mind.

Although I was formally educated in the arts, I preach 'NO RULES' when it comes to painting. Rule of thirds, contrast, negative space - I toss it all out and let the brush decides what to do. Careless? No, just my way of expressing my creativity without letting too many rules get in my way. Rules tend to stifle ones creative process and you begin to overthink and overreact. Creating art should be a spontaneous process in which your brain leaves behind the logical side and jumpstarts the creative side. I'm still amazed what you can accomplish when you stop 'thinking' and start 'doing' - so different from what we are taught through the educational process. Don't get me wrong, I am all for continuing education in the arts and adore taking instruction, just don't allow it to rule your decision making when creating.

The painting I have added to this post is one of my favorites. I think it's the subtle colors and the movement within. This abstract was the first in my 'Climate Change' series and part of my personal collection but you can purchase prints at Fine Art America.

Additional prints of Lynnie Lang's work can be found on Fine Art America where you may select canvas prints, custom pillows, custom totes and more. You can own art at such an affordable price.